5 pieces of gear any explorer needs
Whether it's golfing, hunting, wildlife recreation, camping, or other outdoor activities, every explorer needs the best equipment to support them on their adventures. 
When it comes to outdoor gear, you get what you pay for. Besides tents, sleeping bags, food, and proper clothing, the right gadgets will make your whole experience much more pleasant. Investing in top equipment will get you the most out of your hobby. 
Check out this cool gear every outdoor champion needs for a trip among nature:
1. An expedition kit
Some say you're not a true adventurer without an expedition kit. An expedition kit usually contains a digital screen with a clock, a thermometer, a timer, and, of course, a Swiss Army knife. Available in different forms and made from various types of steel, you'll never know when a Swiss Army knife can come in handy. It's made for real-life use, designed to excel in its intended purposes, and should be part of every explorer's accessories. 
2. A multi-functional drinking water bottle
A water filter can be of great use for anyone who loves camping, hiking, or spending time outdoors. It helps you stay cool and hydrated while out and about. By removing bacterias, chlorine, and unpleasant taste, a water filter helps you get pure, safe water on the go.
A multi-functional drinking water bottle is equipped with shower, stream, and mist patterns so you can also use it to clean different tools.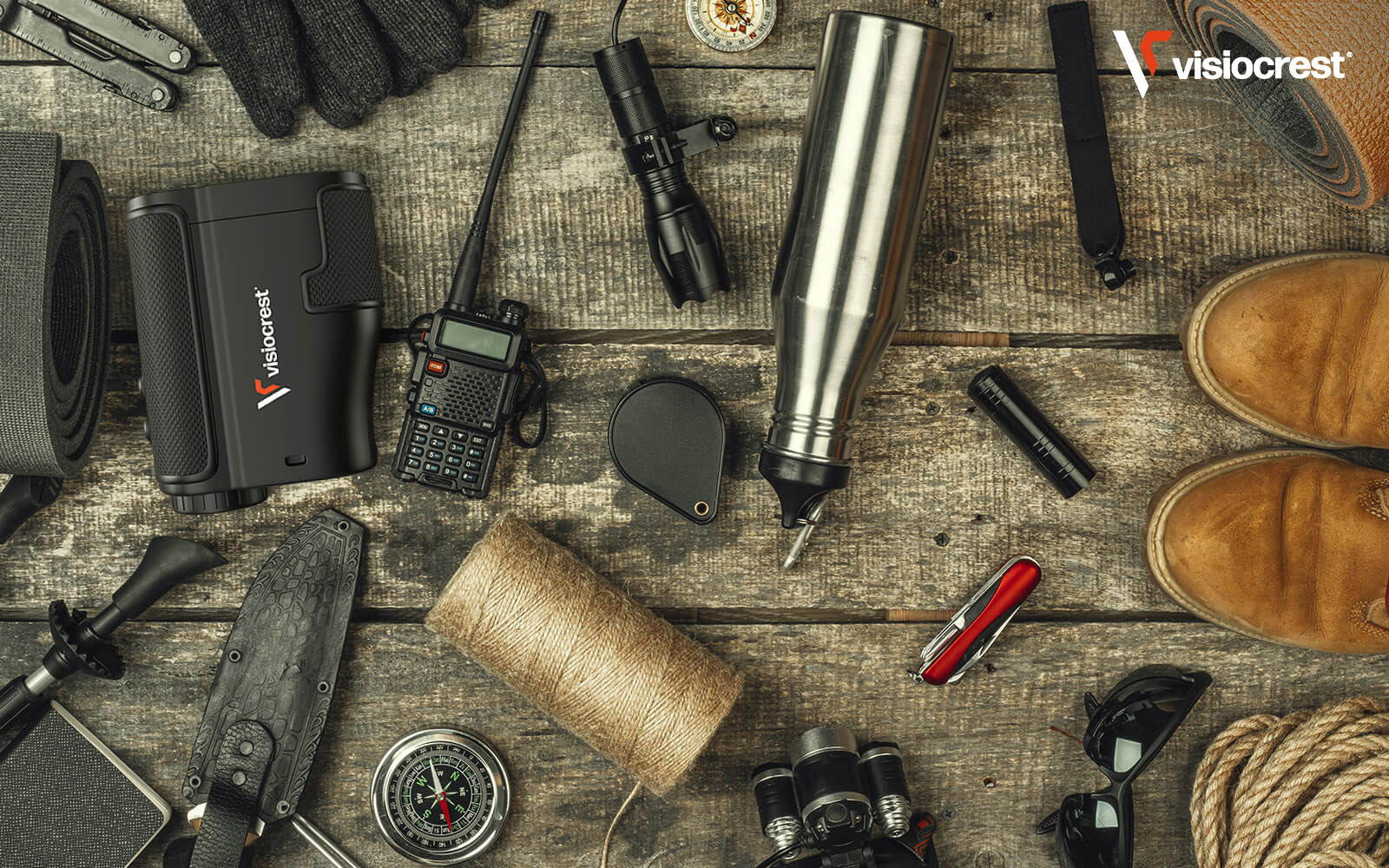 3. A smartwatch
Another cool gadget that's popular among sports enthusiasts is the smartwatch. A smart outdoors watch is a great accessory for any adventurer looking for a cool piece of wearable tech. 
Why use one? They usually come with built-in GPS, offline maps, and provide accurate, real-time notifications of activity tracking, altimeter, barometer, and much more. 
4. A flashlight
Time flies when you're having fun. You might find yourself spending an unplanned and unexpected night in nature. That's why there's no such thing as an outdoor adventure without a flashlight. You wouldn't want to be left out in the dark. 
However, in some situations, night vision binoculars might be an equally smart choice. To find out more about rangefinders, read below.
5. A top-quality rangefinder
Rangefinders are the latest trend in outdoor activities. No matter the sport, a rangefinder gets the job done. Take, for example, golf. You may encounter the occasional blind shot but if you know and envision the course well enough, you will be able to shoot the exact distance to any pin. The same applies to hunting. 
Visiocrest offers a comprehensive solution for golfing, hunting, and other outdoor adventures. Supporting five different modes, Visiocrest can help you see better and further. Unlike similar products, Visiocrest offers a clear visual range of up to 1093 yards-- even in difficult conditions. Additionally, its high quality guarantees to last you a long time. 
There are, of course, many more tools that can help you in your adventures. But, while you wouldn't want devices which distract you from enjoying nature in all of its glory, having a few key pieces of gear will make your experience safer and more enjoyable.